"African fashion is a bold political statement. It embraces our history of colour, texture and symbolism in an amalgamation of modern trends"
Dr. Precious Moloi-Motsepe
African Fashion International (AFI) delivers on providing our discerning customers good quality, affordable, and authentic African clothing and accessories. AFI achieves this through live and online platforms, training platforms, convening platforms and omni-channel offerings for sales.
The story of AFI begins in 2007, as the global fashion industry began consciously correcting it's lack of diversity. AFI entered the scene with a clear vision to create a platform where the best, most globally relevant and contemporary African designers will be discovered. AFI has since groomed and propelled local designers into global household names.
At the heart of AFI is Dr Precious-Moloi-Motsepe. From the beginning of her career she has been an advocate for instilling a culture of hope and shared prosperity amongst African people. As a long-standing member of the Harvard Kennedy School and the World Economic Forum, amongst many other international platforms, Dr Moloi-Motsepe leverages these globally renowned stages to share Africa's perceptions with the world. In 2017, Dr Moloi-Motsepe won the inaugural Fashion 4 Development Franca Sozzani Award at the United Nations in New York, for her efforts in promoting African fashion designers and supporting the empowerment of disadvantaged women.
The first international showcase arranged by AFI was in 2008 in Paris, with designers David Tlale, Thula Sindi and Craig Jacobs showing alongside the more established designer Gavin Rajah. In 2009, in partnership with ARISE, AFI elevated local designers to runways at NYFW. Since then, designers and brands, including globally acclaimed Laduma Ngxokolo, have expanded their reach by thrilling audiences at Joburg Fashion Week while consistently showcasing at AFI Fashion Weeks and pop up stores.
international recognition
AFI invests in building a beneficial ecosystem for the African fashion industry. To achieve this, AFI partners with leading organisations in the industry and has hosted world class fashion events and shows together with Mercedes Benz, Ms World and Condé Nast International. Leaders in fashion, including the likes of Suzy Menkes, the former editor of Vogue International, and Edward Enninful, the editor-in-chief of British Vogue, have attended AFI Fashion Week.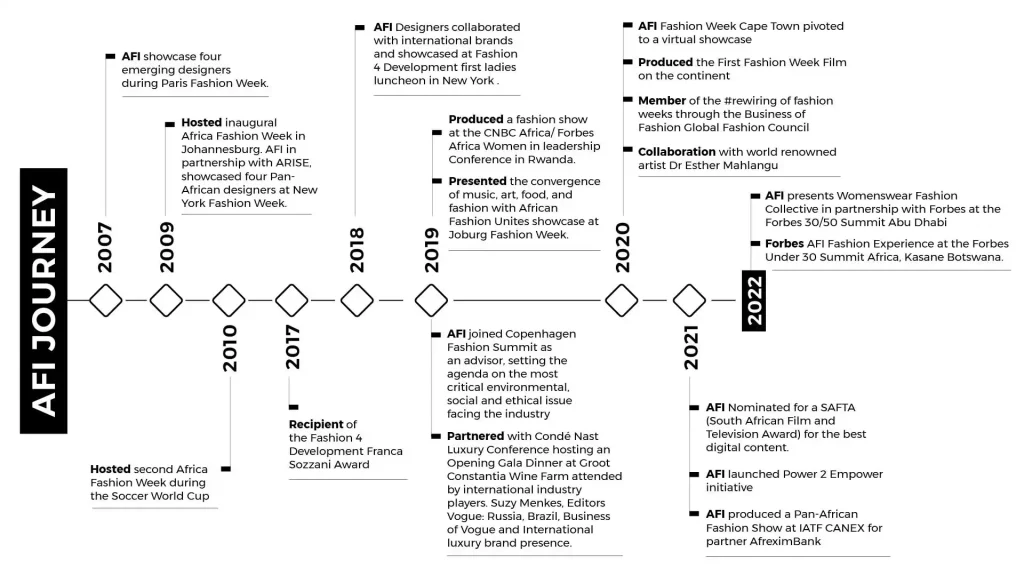 Through AFI's For Youth By Youth initiative, the annual Xperience AFI (XAFI) event brings together young creatives to emphasise the careers and entrepreneurship opportunities available within the African creative and digital landscape XAFI builds on the Fastrack platform, which invests in the pipeline of Africa's next generation designers. Fastrack offers training and mentorship in the business of fashion, with notable designers including Rich Mnisi, Thebe Magagu and Khotatso Tsotetsi starting their careers through this platform.
In 2019 AFI pivoted to a new strategy, transforming access to AFI services by incorporating several additional digital platforms. AFI customers now have unlimited access to curated products and personalised offerings, which are presented through bespoke hybrid fashion events, an
e-commerce platform
and a news aggregator site. The retail store House of Nala, located at the Leonardo in Sandton, supports AFI's e-commerce capabilities by providing a seamless shopping experience and tailored services for luxury customers. Add your voice to the AFI story by joining our community of Africa and
fashion enthusiasts
. Shape your experience of Africa and fashion by giving us your
feedback
.
AFI has established itself as an all-encompassing home for African creatives
A pioneer of accessible African luxury fashion, AFI aims to: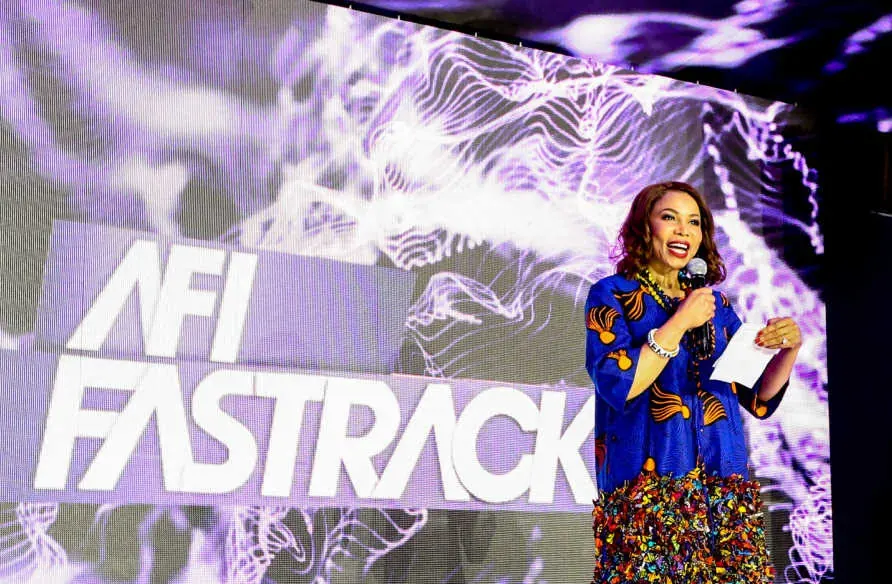 Together with the Motsepe Foundation, AFI assisted in coordinating the Global Citizen movement into South Africa to create opportunities for local design talent on a global platform. The fashion ecosystem is powered by the work of women along the value chain and it is impossible to grow African fashion without empowering women and African youth. Other campaigns driven by AFI includes the Design for Life breast cancer campaign and African Fashion Unites.

To actively respond to eco-conscious efforts within the industry, AFI promotes the sustainable and slow fashion agenda. Through a partnership with the Global Fashion Agenda, and their annual Copenhagen Fashion Summit, AFI highlights the perspectives of Africa amongst global efforts to improve sustainability. Through AFI's training programme Fastrack, emerging designers participate in challenges that include the use of recycled and repurposed materials in the design of their collections.