Colour, luxe fabrics, prints, and volume were the key trends on the first night of AFI Fashion Week Joburg 2022.
Fashion lovers descended upon the Diamond Walk in Sandton, Johannesburg to partake in the first day of the Fashion Week 2022.
Former Miss Universe Zozibini Tunzi led the pack of fashionistas, and they were not disappointed with what came down the runway as Pan-African designers showcased their latest collections.
Fashion Week kicked off with the first episode of an AFI docu-series documenting 15 years of African fashion. The first episode, which features AFI founder and executive chair, Dr Precious Moloi-Motsepe, was a scene-setter that focuses on the journey from 2007 to now. It was the perfect preview for what was to come on the runway- an update of what constitutes African style
Day 1 saw 10 Pan-African designers take to the runway, each presenting their six-look collections, that featured a variety of styles, including chic dresses, suiting, stylish separates, and trendy accessories. There were bold print dresses, voluminous skirts and blouses, and luxurious fabrics such as silk, satin, linen, cotton, and velvet.
The event started off with Pretoria's House of Stevolution presenting a cocktail-wear collection. The shades of hot pink were a crowd-pleaser, and it was clear from their positive reception that the audience seemed to agree.
AFI's in-house brand, House of Nala, received great praise for its Oranges and Olives collection. Additionally, Ascend Label's high-end knitwear collection was well-received at the event.
Botswana's Kaylaamiel Creations made her debut. Her cotton and viscose collection with geometric prints in pink and blue pastels, was a hit.
Kidunia also presented a bright cotton and ostrich feather collection that would be great for any vacation. Lebo Merafhe and Nguo by Tumi Mohasa were two other designers who presented solid collections of cotton pieces that are just what you need when you're on vacation.
Woke Studios presented a collection that was both bright and colourful, but also impressive with its use of elegant fabrics. Suitability showed respect for the well-dressed man with their high-quality, luxurious pieces.
Taibo Bacar closed off the first night with a collection for both men and women. It was a luxe resort collection featuring denim, linen, and silk garments in the brand's signature monogram.
It's clear that colour, luxe fabrics, prints, and volume were the key trends on the first night of AFI Joburg Fashion Week.
Day 2 of AFI Joburg Fashion Week kicks off with the AFI Masterclass at The Catalyst Hotel, before fashionistas return for the final shows at 8pm at The Diamond Walk.
Fashion Week Joburg 2022 is a retail-focused fashion week, with designs available straight off the runway for purchase at the new House of Nala by AFI store in Sandton City.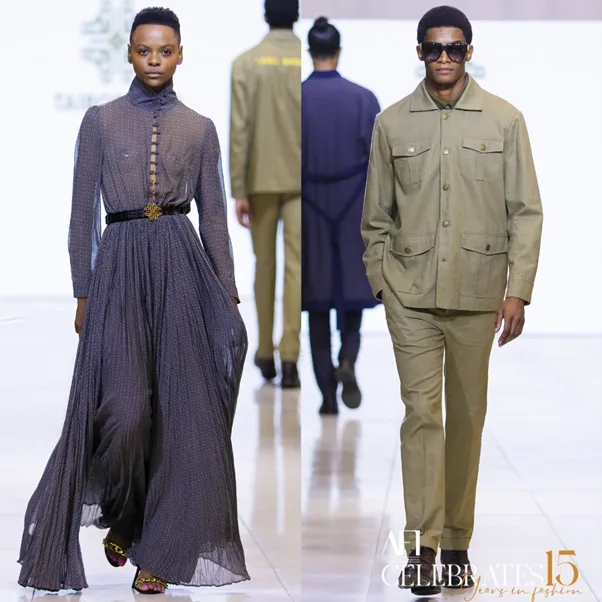 The full show schedule and other activities taking place can be found on the official AFI website here.