Shop Now: The Best Coats From African Luxury Designers To Purchase This Winter
After living the bulk of my life in the sub-tropical city of Durban, I finally moved to Johannesburg, where I got my real taste of winter. It is then that I realised that I didn't have a winter coat.
The biting winter air as I waited for the Uber to work, became my daily bread. Even with the layering, there really was one thing that would save me and that was investing in a winter coat.
One of my favourite sequences in the fashion film, The Devil Wears Prada, is when Meryl Streep's character, Miranda Priestly is flinging her luxurious coats on her personal assistant's desk. These weren't just your typical coats. Costume designer, Patricia Field, saw the coats as a sign of power. They contributed to the story being told.
It is fitting that when the long-suffering PA, Anne Hathaway's Andrea Sachs finally gets a make-over, she chooses to show how much she has changed by wearing a slew of designer coats.
As the Northern Hemisphere heads to its signature icy winters, having the perfect coat will make the return to the office easier to bear. As more companies request employees to return to the office, the autumn and winter commute will force one to invest in a winter coat that will not only shield them from the elements but help them make a statement after months away from the office.
One way to make a statement is to look further south at what some of the best designers in the African continent are producing.
No longer the ignored middle child of the fashion industry, African designers are the toast of fashion. There's a reason why many African designers are winning and being shortlisted for design prizes. There is some brilliant work being produced and it's all with a fresh perspective.
So why don't you look beyond your usual haunts and find the perfect winter coat from an African luxury designer?
These coats are produced with sustainability in mind without forgoing the all-important element of style.
Here are some of the best coats by African designers you need to have this winter, available for purchase and pre-order at African Fashion International's House of Nala.
EARLY WINTER
These are our picks of coats that are perfect during the summer-to-autumn transitional period. While on the lighter side, they keep you warm and unbelievably stylish.
Light enough to wear as a transitional coat, while still warm enough for the early morning and evening commute. It's the perfect coat for layering and can be worn at the office or for Sunday brunch. Either wear it loose or cinch it with a corset belt; wear it with your power suit or mini skirt, tights, and a knitted sweater, it's ideal for any occasion.
Umbhaco Noluthando Print Coat by Jessica Jane
Umbhaco is a traditional Xhosa regalia worn on special occasions. It's a pure cotton fabric with intricate binding and embroidery to give it a distinct look. This coat is a modern take on the traditional umbhaco, thanks to the graphic print, and use of jacquard on the lapel, providing an interesting contrast. The silk ribbons add pizzazz and remind us that winter doesn't have to bore us.
Classica Icon Helmet Aya Sleeveless Coat by David Tlale
This timeless Sleeveless Coat, made by David Tlale will keep you warm and classy this winter. It's designed for men and women to suit any occasion in autumn or winter.
Iconic Coat Dress by Laaniraani
Sustainability is a big part of the African fashion industry and this midi coat dress made with repurposed clothing, including ties, shows what's possible. It features a classic vintage silhouette crafted from colourful vintage neckties, remnant stock denim- patchworked together using various quilting techniques and decorative stitching using neon thread. It inheres to classic feminine lines – a fitted top part and full skirt volume at the bottom.
WINTER
With heavier fabrics that are perfect for freezing climes, these coats are both stylish and will insulate you from the elements.
Black And White Phenduka Jacket by Amen
As it gets colder, it becomes necessary to bulk up and what better way than with this iconic printed jacket by Amen. It's a statement maker that will make you stand out in public and will make people want to know where you got it from.
Orange Print Coat Set by MyOpenClozet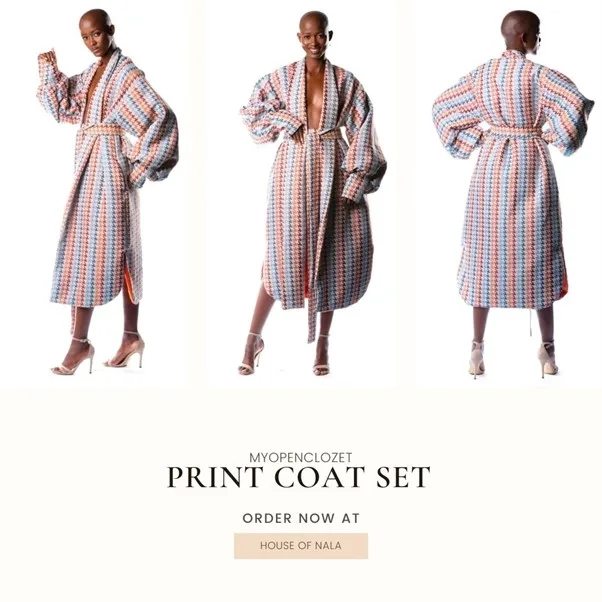 This print ankle length wrap coat with fabric belt balloon sleeves with defined cuff in the classic houndstooth print is a sexy take on winterwear, and paired with the matching mini skirt, makes it perfect for work and after work dinner. This coat set is also available in an elegant black print.
Kobo Trench Coat by Thabo Makhetha (R10,694)
The Kobo Trench Coat is a flattering cut for any shape. This below the knee coat is lined in satin and has side pockets. This is the statement piece of the collection. The Seanamarena, which is a traditional Basotho blanket has been an inspiration for many Western designer brands. The blanket is made from 50% Wool and 50% Dralon.