The AFI Masterclass delves deep into the state of fashion in Africa, while providing solutions to improve the industry
The AFI Masterclass speakers talk honestly about the need to go back to basics at the Joburg Fashion Week
What do you get when you have four people who are passionate about the fashion industry in Africa in one room? A robust discussion that gives hope but also a realisation of the work that still needs to be done.
Such was the situation at the AFI Masterclass 2022 during AFI Fashion Week Joburg 2022.
Hosted at The Catalyst Hotel on after the first day shows, designers and fashion enthusiasts flocked to listen to Gavin Rajah, Felipe Mazibuko, Anna Ngann Yonn, and Bronwyn Williams speak honestly about the state of the fashion industry in Africa.
While many of us in the fashion industry in the continent like to believe that we are on par with our global counterparts, there still is a long way to go. From issues of sustainability- both environmental and financial- to issues of laws that benefit fashion creatives in the continent, it was a discussion that left attendees with a mission- to start making sure they are the change they want to see in the fashion industry.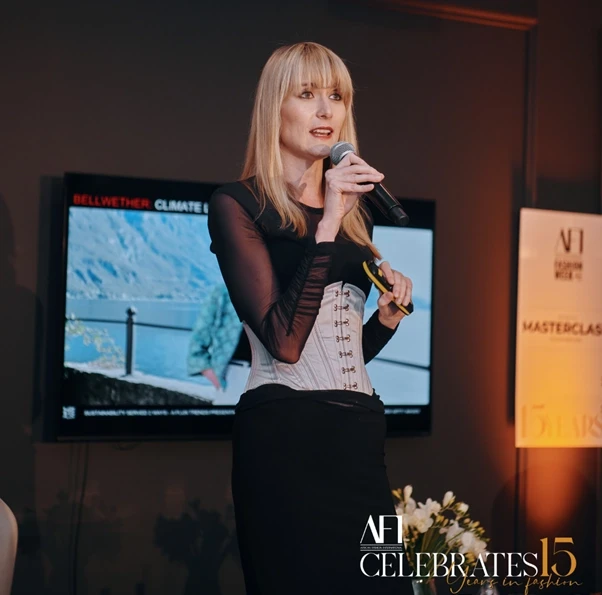 The AFI Masterclass was themed Trends and Sustainability. Bronwyn Williams of Flux Trends kicked off the proceedings, detailing the world's big sustainability problem.
Williams focused her keynote address on how the world and individuals can do their bit to tackle the climate crisis and the issues of sustainability it has brought to the surface.
"Sustainability is two-fold. There's social sustainability and environmental. What we need to do is make sure that when we talk about environmental sustainability, we touch on social issues," Williams said, delving more into the Doughnut Model, by economist, Kate Raworth, that addresses both issues.
With regards to the fashion industry, Williams spoke about how the industry needs to start being conscious of the consumption and the misinterpretation of brands and their sustainability goals. This had led to some form of vigilantism by Gen Z activists, who ask the brands they wear to be honest about their sustainability goals.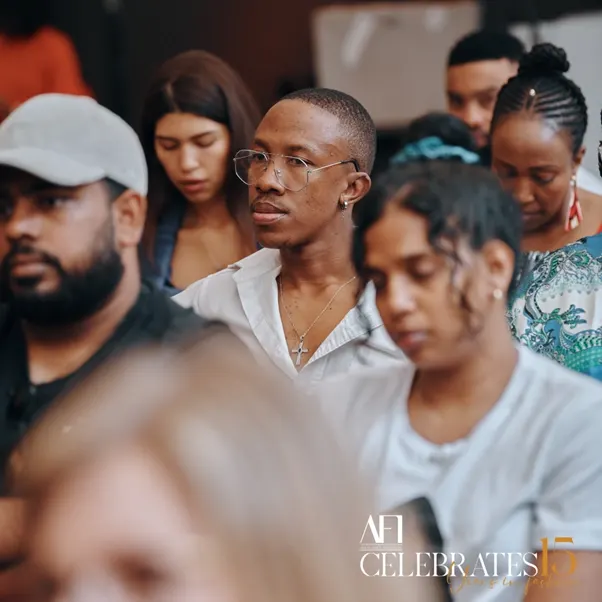 "Gen Z is leading the way in calling out brands. They are a generation that is finding their way into the workforce, and they are challenging the unstainable way the world is doing things. They are vocal about young people inheriting a broken system from decisions made by older generations. They are the generation that will not want to support brands that are unsustainable- both environmentally and socially."
The sustainability conversation is multi-layered, especially when you think of the African context. With the continent having to deal with bales of used clothing washing up on African beaches, ours is a conversation that needs African solutions.
"We need to look at the possibilities of how we can turn trash into fashion. The fashion industry in Africa has an opportunity to be a solution, by exploring ideas that can solve the problem with our continent, while also creating revenue. Solutions like digital fashion, from gaming skins to the metaverse."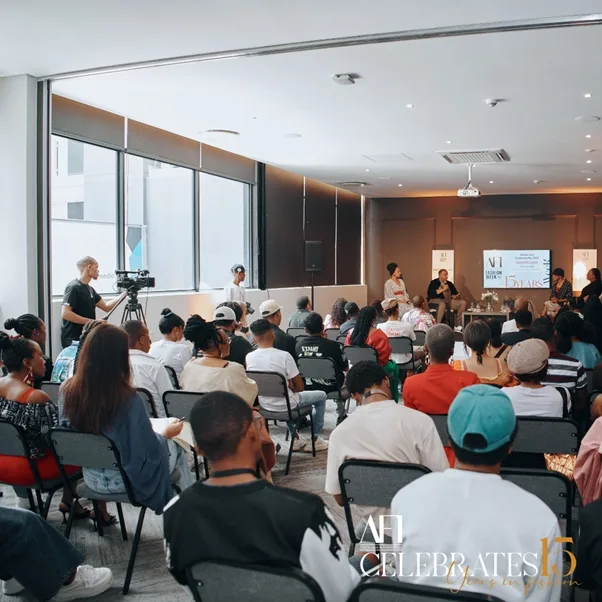 Gavin Rajah then took to the stage and before introducing the panellists, he made a statement that made us all think. "Why is the fashion industry so bad at sustainability? It's an industry that is serious about growth. It has an unrelenting pursuit of growth, which has led the industry to double the production of clothes of which ¾ end up burned or buried. Sustainability is a long-term goal, one that many brands have yet to reach."
It was a statement that would begin a robust and solutions driven conversation that featured fashion scholar and stylist, Felipe Mazibuko and the founder and head designer at Kreyann', Anna Ngann Yonn from Cameroon.
Rajah began the conversation by asking what the solutions could be for the industry to tackle the issue of sustainability.
"There is no Fashion Council that provides a foundation that brings stakeholders together," Mazibuko says. "A voice to speak for the fashion designers will help young designers grow their understanding of the value chain- to understand trade, trade law and the economics of creativity."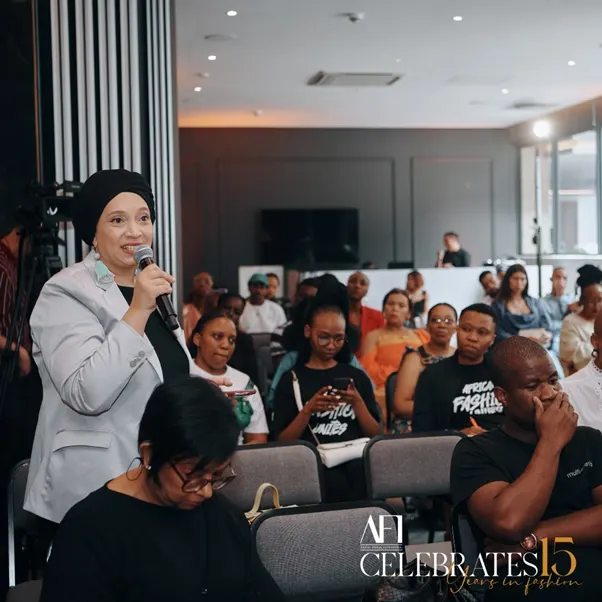 Noting that the fashion industry in Cameroon has yet to reach this level of engagement on sustainability, Yonn agreed that sustainability and durability represents an area of opportunity.
"It's not African fashion but fashion in Africa. Designers can redefine our culture and not replicate Vogue's interpretations of who we are."
Mazibuko then spoke about how the creative industries need to go back to basics- education.
"Education can make more people aware and proud of supporting local designers. Leaders becoming involved in the industry should recognise its cultural and economic value. This will allow for restructured investments in sectors from education, trade, taxes and protecting the local market."
The infiltration of fast fashion onto the continent, limited understanding of trade law among designers, and insufficient investments allocated towards building local value chains, are considered barriers to the growth of the fashion in Africa market.
To counter this, Mazibuko makes a conscious effort to wear 95% of his clothing Made-in-Africa. "Rather than buying a print and creating a skirt, designers should consider creating their own prints, using local motifs to enter the global creative industry through an understanding of our own roots. In the local context, African design is (still) considered traditional and occasion wear. It's about time we start questioning where our money goes".
A common element in the discussion, reiterated by all speakers, was a need for multi-stakeholder structures that deliver on coordinating support services across sectors.
Establishing platforms such as the AFI Masterclass, to have these conversations and connect with stakeholders, is a positive step to cementing Africa's growth trajectory into the fashion word.
You can watch the AFI Masterclass on the AFI YouTube Page.