From Hot Pink and Orange to Bold Prints and Luxe Fabrics, these are the key womenswear trends presented at AFI Fashion Week Joburg 2022
Hot Pink, Bold Colours and Prints reign supreme at AFI Fashion Week Joburg 2022
African Fashion International recently hosted the annual AFI Fashion Week Joburg 2022. This year, AFI Fashion Week Joburg was a retail-driven fashion week, allowing designers to produce a six-look collection with retail in mind.
Attendees could immediately purchase the garments they liked on the runway through AFI's retail platforms, House of Nala in Sandton City and The Leonardo and the revamped AFI online store.
While fashion week may be a must-attend social event for many, for those in the industry it's a time to be updated on what to expect in the world of retail. It's a time to see the colours, silhouettes, prints, fabrics, and other trends.
And that was the case at the recent AFI Fashion Week Joburg 2022 runway. A bevvy of colours, prints, textures, and boldness made their way down the runway. It was a runway that featured a variety of styles. There were chic dresses, suiting, and stylish separates. There were bold print dresses, voluminous skirts and blouses, and luxurious fabrics such as silk, satin, linen, cotton, and velvet.
But there were trends that were more prevalent than others. Here are the four major womenswear trends from AFI Fashion Week Joburg 2022.
HOT PINK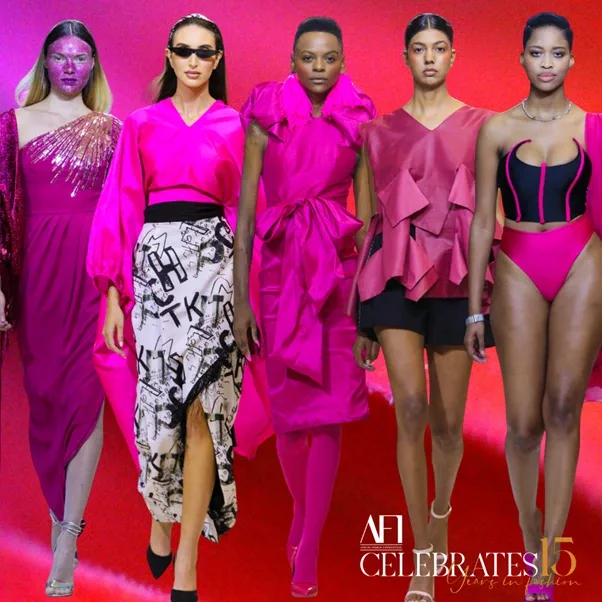 The fashion world's obsession with this bright pink shade, is not going away anytime soon. And who can blame designers? It's a festive colour that helps you make a fashion statement. It's bright and energetic, yet it still isn't too overpowering like a neon. While Valentino may have released an entire collection featuring the shade, it was already included in many trend reports in 2021 as one of the key colours, thanks to a phenomenon called 'Barbie Core'. Gavin Rajah, Alia Bare, House of Stevolution, Lebo Merhafe and Thabootys all included the colour in their collections at AFI Fashion Week Joburg 2022.
BOLD PRINTS
While the world still thinks fashion in Africa is defined by tribal prints, Africa-based designers have over the years have shown that's not the case. The prints showcased showed an elevated understanding of the prints that are coming out of the continent. From signature, monogrammed and graffiti prints, to graphic, geometric, stripes, tie-dye, and brocade prints, these bold prints were all over the runway from Alia Bare, Imprint, Taibo Bacar, Indoni Fashion House, Sisters of Afrika, and Masa Mara. If you're looking to add some personality to your wardrobe, these prints are for you.
ORANGE & LIME
While hot pink is the beloved colour this season, but so are the citrus inspired shades, orange, and lime. AFI's recently launched House of Nala brand, had a collection inspired by olives and oranges, featuring bright shades of orange, green and accessorised with lime bags. Masa Mara, Eric Raisina, Gavin Rajah, and Sisters of Afrika also featured the colours in their collections.
LUXE FABRICS
Several designers upped the ante, using luxury fabrics in their collections this year. From ostrich feathers, brocade and satin to linen, cotton, leather and knits, luxury fabrics were having a moment at AFI Fashion Week. House of Stevolution, Ascend Label, Gavin Rajah, Nguo, Kaylaamiel and Lebo Merhafe were some who looked to the luxe textiles to make a statement at fashion week.
All these looks are available for purchase and pre-order at our House of Nala by AFI boutiques in Sandton City (Shop U47A, Upper Level) and on the 3rd Floor at The Leonardo in Sandton. You can also place an order on the AFI online store.
To book your appointment, send an email to pnkosi@afi.za.com