Embrace Your Inner Barbie with the Barbiecore Fashion Trend
Barbiecore: A Fashion Trend that Makes Pink More Than Just a Colour
By AFI Insider
Pink is not just a colour, it's an attitude. And no one knows that better than Barbie, the iconic fashion doll that has inspired generations of girls to dream big and express themselves through style. Barbiecore is the latest fashion trend that celebrates the fun, feminine and fabulous side of pink, drawing inspiration from Barbie's diverse and glamorous wardrobe.
Whether you're a fan of the upcoming Barbie movie starring Margot Robbie, or you just love the vibrant hue, here are some tips on how to incorporate pink garments into your wardrobe in a very timeless, elegant and classy way.
What is Barbiecore?
Barbiecore takes its cues from Mattel's iconic fashion doll, Barbie. It is a nostalgic trend that millennials and GenZers are bringing back in a playful way – think bright pinks, confident attitude, and exuding happiness. But it isn't all about the looks; it also encourages individuals to express their individuality and creativity, just like Barbie has done throughout her illustrious career.
Barbiecore has been emerging and gaining momentum for a few years, with many Pinterest boards and TikTok videos dedicated to the trend.
Celebrities such as Barbie star Margot Robbie, Lizzo and Florence Pugh have all embraced this fashion form. Luxury label Valentino famously unveiled an eye-catching collection of hot pink designs in 2021.
So, how does one dress in Barbiecore?
The key to dressing in Barbiecore is to have fun with it. Don't be afraid to mix and match different shades and textures of pink, from pastels to neons, from satin to faux fur. You can also add some contrast with other colours, such as black, white or denim.
Here are some ideas on how to create different Barbiecore looks:
SHOP: The Malondie Print Mabel Top and Skirt. 
Casual chic
For a laid-back but stylish look, pair a pink sweater or hoodie with jeans or leggings. Add some flair with a pink hat, sunglasses or sneakers. You can also layer a pink jacket or coat over a simple white tee or dress.
Sporty glam
For a sporty but glamorous look, opt for a pink tracksuit or jumpsuit. Accessorize with a pink visor, backpack or belt bag. You can also wear a pink sports bra or crop top under a pink bomber jacket or blazer.
Party ready
For a party-ready look, go for a pink dress or skirt. Choose a flattering silhouette that suits your body type, such as a wrap dress, a slip dress or a pencil skirt. Add some sparkle with a pink sequin jacket, clutch or heels. You can also wear a pink headband, earrings or necklace.
Work smart
For a work-smart look, wear a pink suit or blouse. Pick a tailored cut that shows your professionalism, such as a blazer, a button-down shirt or a pencil skirt. Add some sophistication with a pink scarf, tote bag or pumps. You can also wear a pink watch, bracelet or ring.
SHOP: KAT VAN DUINEN  One Shoulder Frill Jumpsuit
How to shop for Barbiecore?
If you're looking for some new pieces to add to your Barbiecore wardrobe, look no further than the AFI Online Store, which features garments by Pan-African fashion designers, that add an African flair to Barbie Core.
Here are our favourite BarbieCore inspired garments and accessories by Pan-African fashion designers: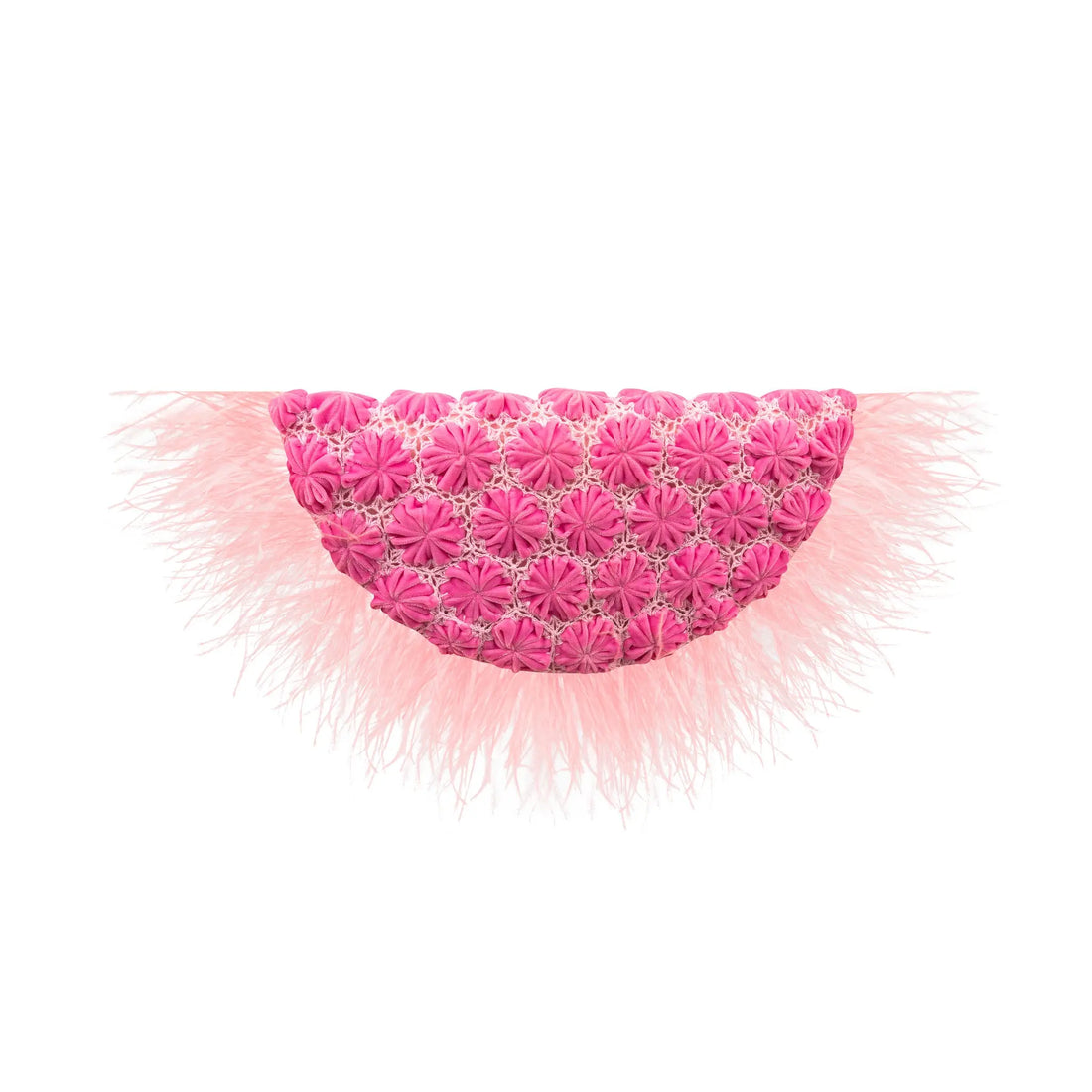 SHOP: ERIC RAISINA Pink Velvet Purse with Autrice Feathers
SHOP: ALIA BARE Pink Shantung Kimono
SHOP: House of Nala Pink Pant Set in Chiffon
SHOP: Cynthia Foss Fitted Crop Top 
SHOP: Kat Van Duinen Pink Bow Halterneck Silk Gown
Barbiecore is more than just a fashion trend, it's a way of life. It's about embracing your femininity, your individuality and your creativity. It's about having fun with fashion and expressing yourself through style. It's about being confident, happy and fabulous. So go ahead and think pink, because life in plastic is fantastic!