Celebrities stun in Pan-African fashion at the AFI Fashion Week Joburg Opening Party
Dr Precious Moloi-Motsepe toasts to fifteen more years of African Fashion International
For a few hours, Melrose Arch in Johannesburg turned into the fashion capital of Africa as A-Listers, designers and fashion lovers celebrated at the AFI Fashion Week Joburg 2022 opening party.
The soiree was hosted by Royal Flush Gin at Daytona in Melrose Arch to celebrate the 15th anniversary of African Fashion International ahead of fashion week. While the luxury vehicles are always the attraction, the stars on the five-metre-long red carpet, received all the attention.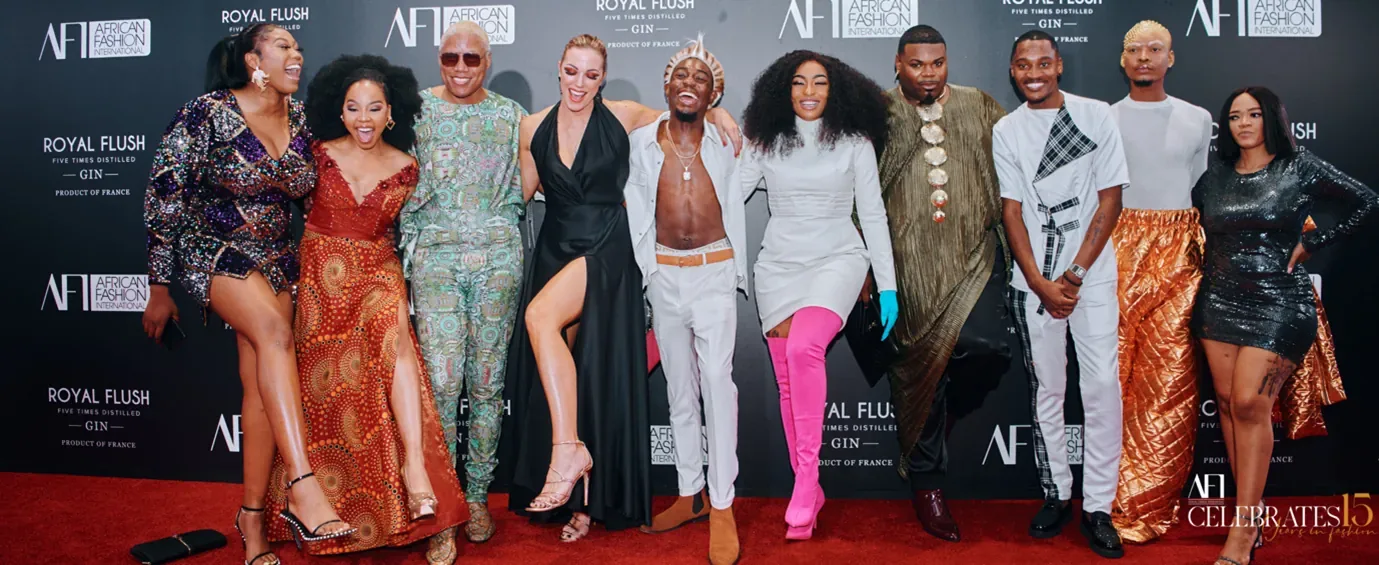 The red-carpet was a hive of activity as star after star arrived at Daytona, decked out in garments by Pan-African designers.
Minnie Dlamini was one of the first to arrive, showing off her blonde buzzcut in a figure-hugging dress by Mozambican designer, Taibo Bacar.
The designer, who wore an oversized brown linen suit and matching shirt, also dressed Miss South Africa, Ndavhi Nokeri and Mihlali Ndamase.
As always, Mihlali turned heads as press clamoured for her attention. Her red hair was the perfect beauty look for her black Taibo Bacar dress.
Former Miss South Africa, Shudufhadzo Musida wore a gown from Imprint_ZA and perfectly timed her arrival with the designer, Mzukisi Mbane.
The Modiselle sisters, Bontle and Candice, were a ball of fun, while Blue Mbombo stunned in her emerald number.
Royal Flush Gin ambassador, Naaq Musiq impressed in a marble tuxedo by bespoke menswear brand, Suitability, while Felipe Mazibuko gave everyone a style lesson, wearing an oversized shirts and blazer, Bermuda shorts and knee-high socks.
Inside the venue, guests were treated to a luxurious setting with chandeliers, and cocktail style setting, with Royal Flush Gin cocktails. Celebrity caterer and events coordinator, Vicky Crease pulled out all the stops.
Guests were served, a smorgasbord of canapes, including gourmet beef fillet, lemon chicken skewers coconut prawns, French manicured lamb cutlets and lemon and herb calamari.
For dessert guests tucked into little cups chocolate mousse and a fluffy meringue nest with seasonal fruit.
Hitting the decks were DJ Zinhle and her husband, Murdah Bongz. DJ Mo Flava also had the audience dancing up a storm.
Founder and executive chair of AFI, Dr. Precious Moloi-Motsepe also made an appearance, where she thanked guests for their attendance. She touched on the journey of AFI from the beginning until today and encouraged guests to not only appreciate African fashion but actively collaborate with AFI to continue making sure that African fashion is a true player in the global industry.
To see some of the attendees who impressed on the red carpet, visit the AFI Facebook page.